Finding a great nanny family is important and the first step is to have a strong resume that highlights your childcare experience and skills. Your resume is not just a list of jobs, it should highlight your training and accomplishments. A resume is a tool to market yourself and illustrate how you are qualified for a desired childcare position.
A strong resume has three required components. First, your contact information including full name, phone number, email address, city and if available, your LinkedIn URL. You do not need to share your social security number, home address, or marital status. Second, document your employment history starting with the most recent and going back, up to ten years. The work experience section should include full-time and part-time jobs as well as paid internships. Finally, highlight your childcare training. A primary difference between sitters who often earn minimum wage and nannies who earn higher hourly rates is that nannies have childcare specific training that allows them to develop children emotionally, physically, socially, and intellectually. Highlighting Childcare Certifications as well as completed CPR and First Aid training will demonstrate a commitment to provide high quality care.
It may be tough to resist but don't put everything you have done in your professional life on your resume. This is important for two reasons. First, the goal of the resume is not to get the job but to get a potential employer interested in you and request an interview. Second, resumes should not exceed two pages. And finally, too much information can distract the reader, who often scans the information in less than a minute.
Historically, photos were discouraged on resumes but in an age of online job boards that perform better with a photo, most of us have at least one photo that appears when our name is searched online. Given existing digital footprints, including a professional photo can help potential employers find you on LinkedIn.
Pre-Resume Writing Tasks
Before you write a resume, you should complete these Pre-Resume Writing Tasks.
1. List all your childcare work experience, dates of employment, job description, contact information, and accomplishments
2. List and obtain copies of all education and training completed including high school diploma, college transcripts and continuing education or specialist (CPR/First Aid) certifications
3. Research desired jobs and create a list of the duties and responsibilities for each type of job that interests you (nanny, family assistant, summer camp counselor, et al)
Decide on a Resume Format – Traditional or Visual
Resume formats vary greatly but come in two standard types, the traditional resume and the visual resume. Traditional resumes are structured with standard categories including education, experience, and extra-curricular activities. These resumes are often text heavy with bullet points and lists. Visual resumes are full of graphics and images, allowing for more creative and illustrative ways to communicate your skills and experiences. Maintaining the key elements including contact information, work experience, and education, visual resumes allow nannies the opportunity to share the services offered, accomplishments, and other non-traditional information that may be relevant to a childcare position. The first example above is a visual format while the second example below is a traditional resume by the same nanny.
Writing Your Resume
While you want to be short and concise, you also want to provide enough detail to show outcomes, not just task completion. To do this, use action verbs such as planned, achieved, delivered, motivated or provided. Quantifying results by using numbers and percentages adds powerful detail that communicates the impact you made. Here's an example – As a professional nanny, I used flash cards with a 7-year-old, increasing his word recognition and pronunciation of compound words numbers by 30%.
When writing your resume, it's vital to be truthful and avoid misrepresentations. In August 2018, New York announced Lulu & Leo's Law which criminalizes misrepresentations of childcare provider's experiences and qualifications. The bill makes it a misdemeanor, punishable by up to six months behind bars, for a prospective nanny to pump up their resumes with fake references or other misleading information. Be careful about making experience claims for work completed before you were 16 years old. For example, if you just graduated high school, then you should not claim to have 5 years Nanny experience as a family member won't find it believable. Generally, Nanny experience is viewed as childcare experience after the age of 18 with prior experience captured as babysitting.
Resumes are personal documents that should be tailored to your goals and highlight your skills. Don't be afraid to add specialized skills or examples of your favorite child development activities to create a lasting impression on who you are. To learn more, a Resume Writing course is available with enrollment in the Basic Childcare program at Amslee Institute.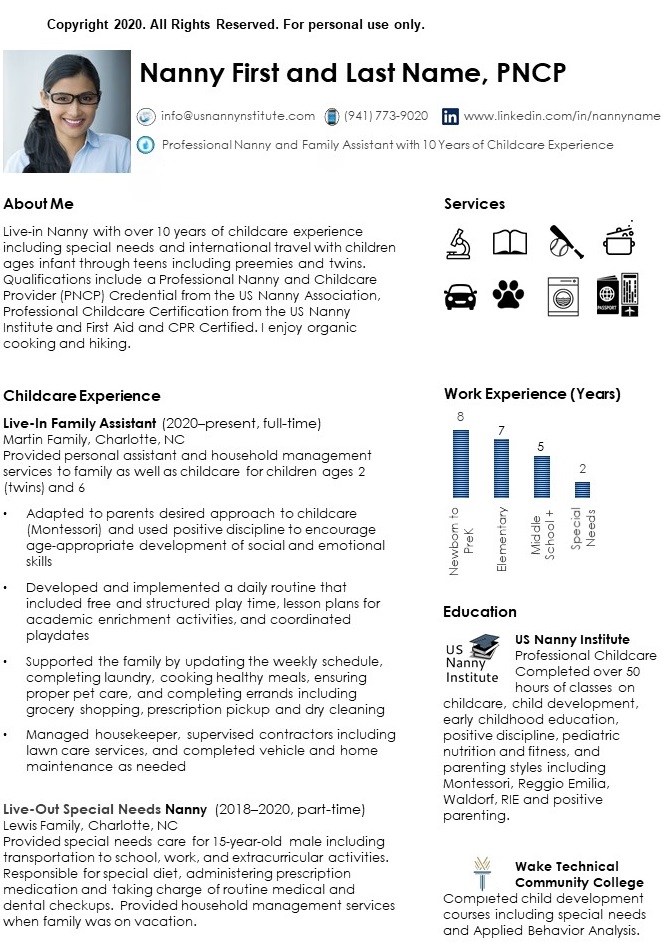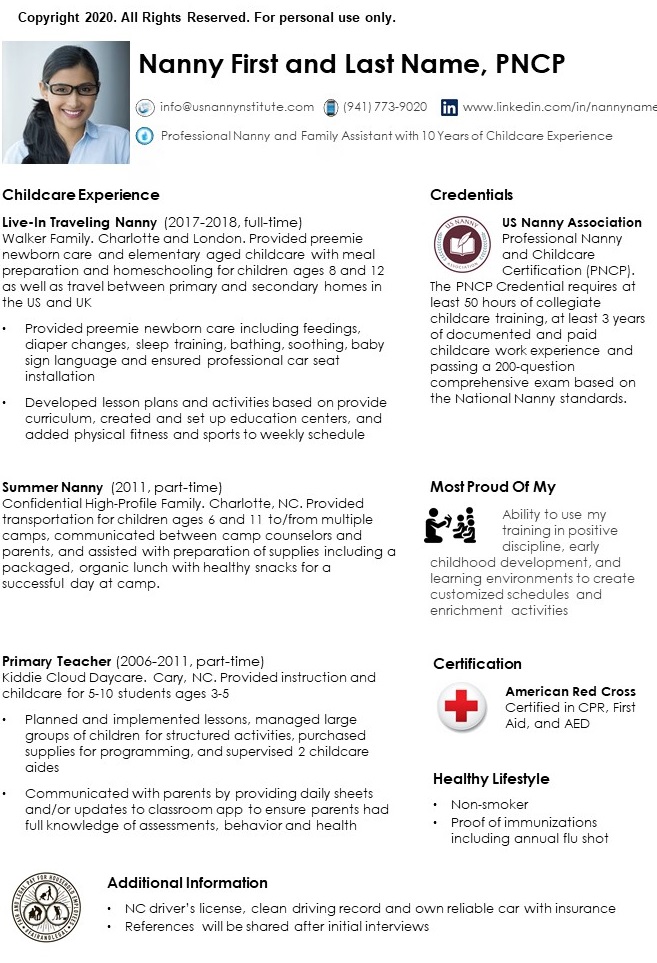 The US Nanny Association thanks all the nannies, advocates and business leaders who provide practical tips and insight to elevate our industry. Thank you for sharing your expertise.