Resources for Agencies and Businesses
The US Nanny Association offers free resources to help staffing agencies and businesses. Resources include how to grow your agency, tips to respectfully reject nanny candidates and guides to help new agency owners.
The US Nanny Association also publishes a wide range of articles on childcare and employment.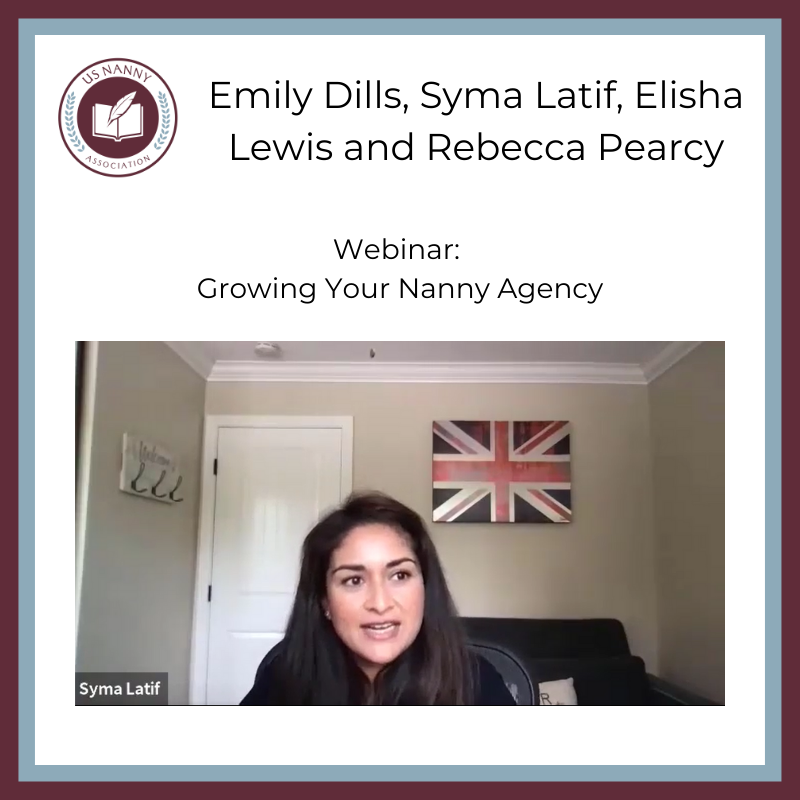 How and why did you start your nanny agency and how did you get it to the place you are at now? When did you start making a profit and when were you able to start pulling a salary? Insight from 4 reputable agency owners (Rebecca Pearcy, Syma Latif, Elisha Lewis, Emily Dills) with their top tips on building and managing a staffing agency.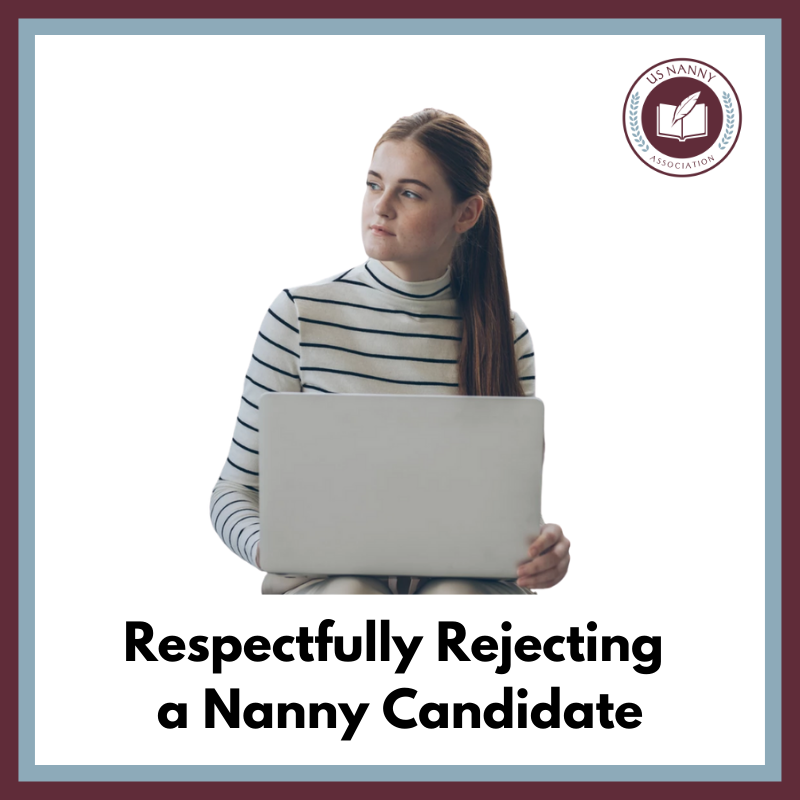 There are many times that nannies apply to my agency without having the proper qualifications required, and unfortunately due to that I have no choice but to reject that nanny applicant.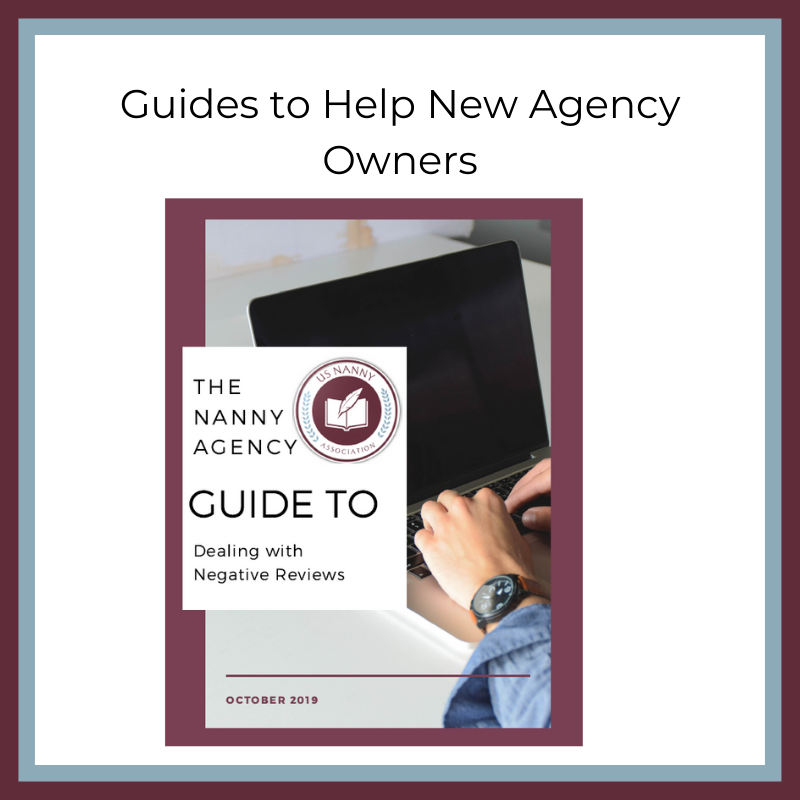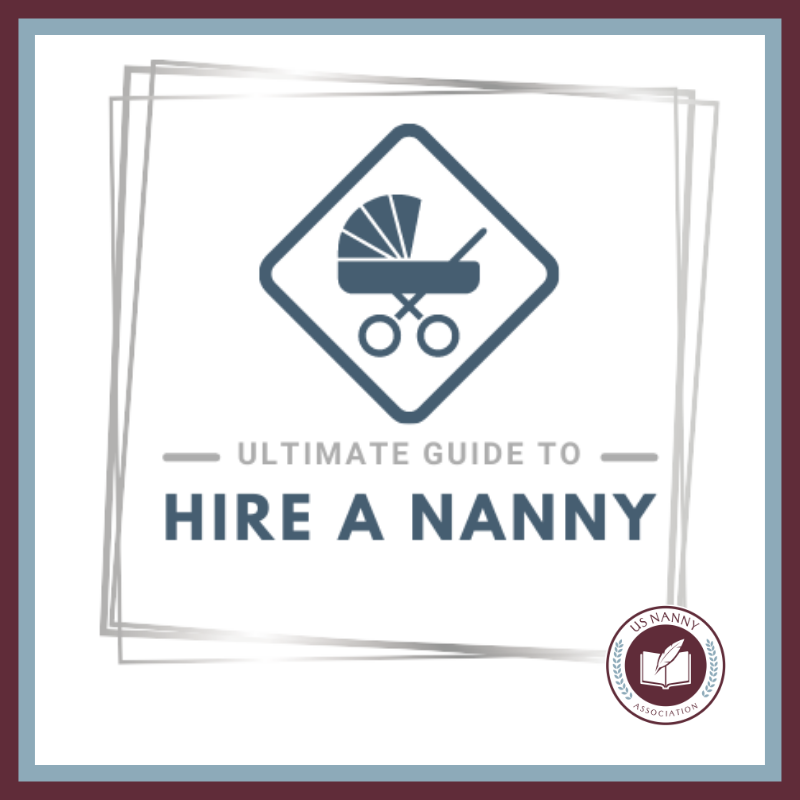 The Ultimate Guide to Hire a Nanny is available online, as a webinar series or you can download the eBook. It has 18 chapters that provide detailed insights and tools to support every step needed to hire a nanny.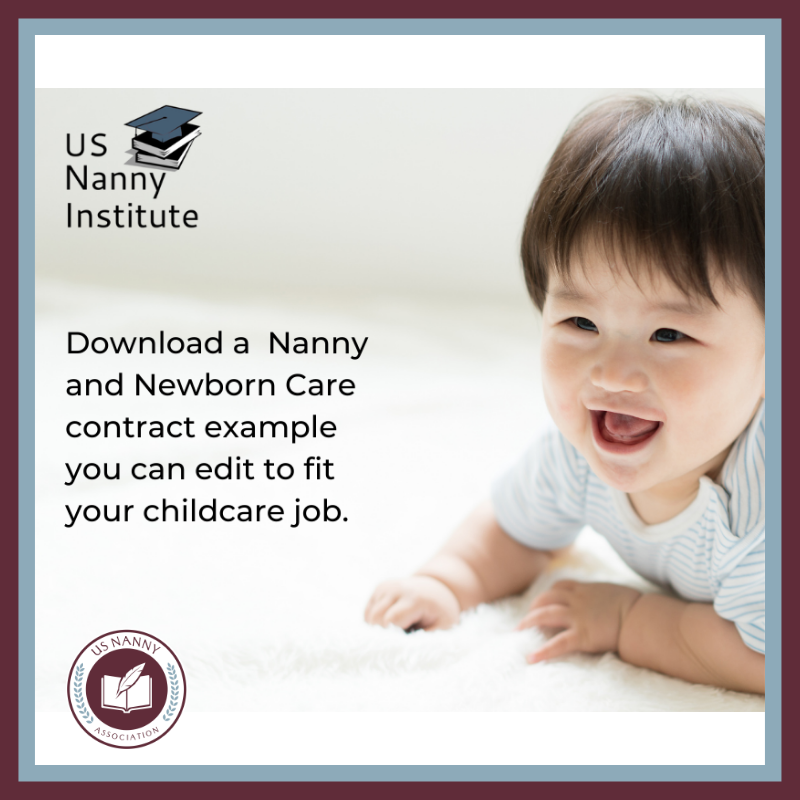 You can download a free example nanny contract that includes all the elements needed to hire a part-time nanny, full-time nanny, live-in nanny, overnight nanny or a newborn and infant care specialist.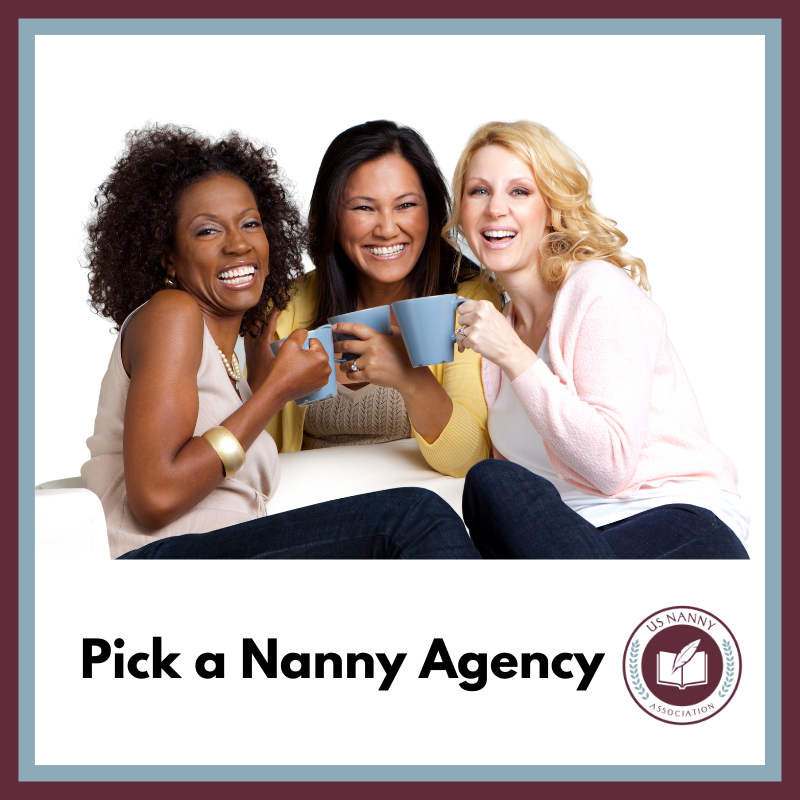 There are a lot of childcare employment service providers. This webpage provides tips to help parents pick a reputable nanny agency and lists our agency organization members with a link to their website.
Do you want to promote your business to the US Nanny Association community? Do you want to add your agency to our page on how to pick a nanny agency? Join as an organization member for these benefits and more.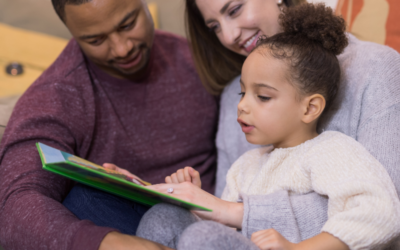 I've been caring for and entertaining children for approximately 50 years. Yep. Half a century. So, I have a few ideas and they may surprise you. Here's a synopsis. Three R's for the Summer Nanny 2023. Read. Repurpose. Reset These Three R's have the potential to...
What's in the Digital Library for our Members?
Discover the US Nanny Association. Individual and business memberships include the digital library which has over 150 webinars, articles and eBooks on childcare, employment, safety, leadership and more. Here's a preview of our digital library content.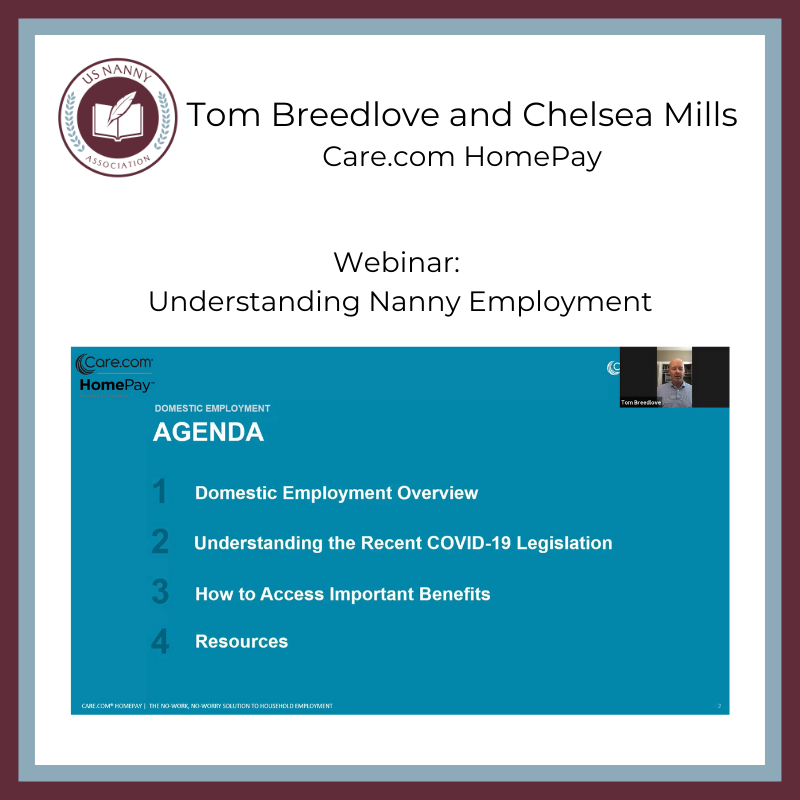 Understanding Nanny Employment
Tom Breedlove and Chelsea Mills of Care.com Homepay provide an expert review of nanny employment and the coronavirus benefits for domestic employees.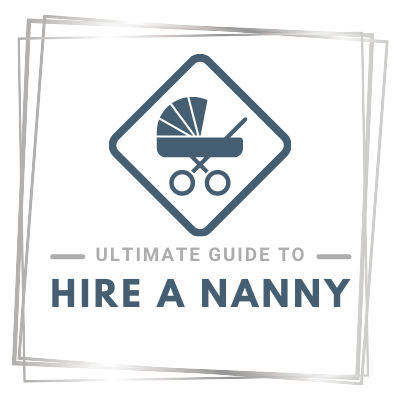 Nanny Contract and Work Agreements
Nanny contracts and newborn care work agreements can help parents and nannies discuss and align on job duties and compensation. This video goes through a 14-page example that you can download and modify. No name or email is required to download the example nanny contract.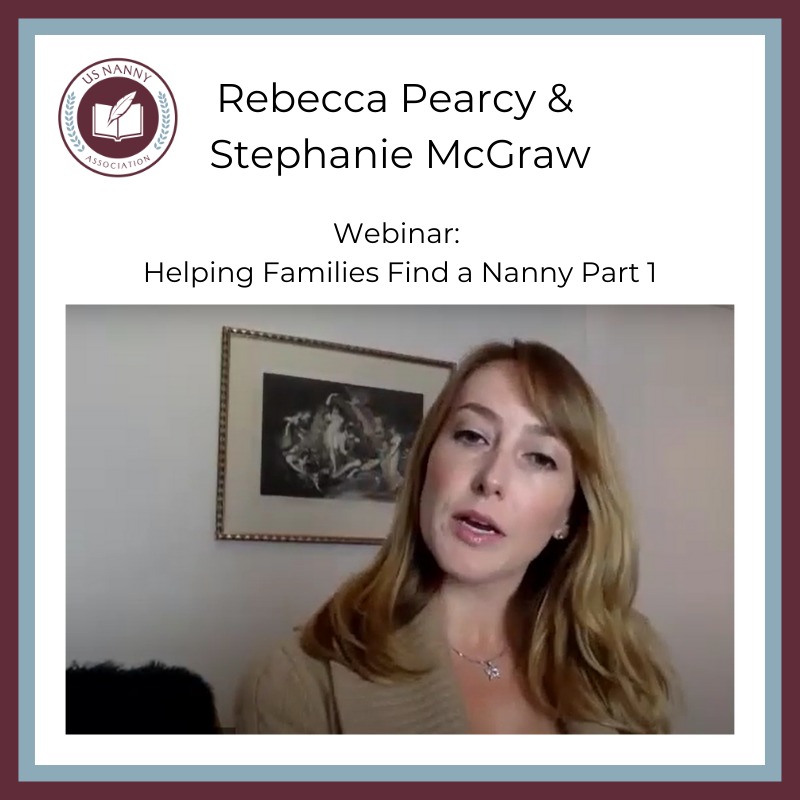 Helping Families Find a Nanny Part 1
Rebecca Pearcy, owner of Windsor House Nannies and Stephanie McGraw, a parent who hires au pairs share their experiences to help families with practical tips and nanny industry insights.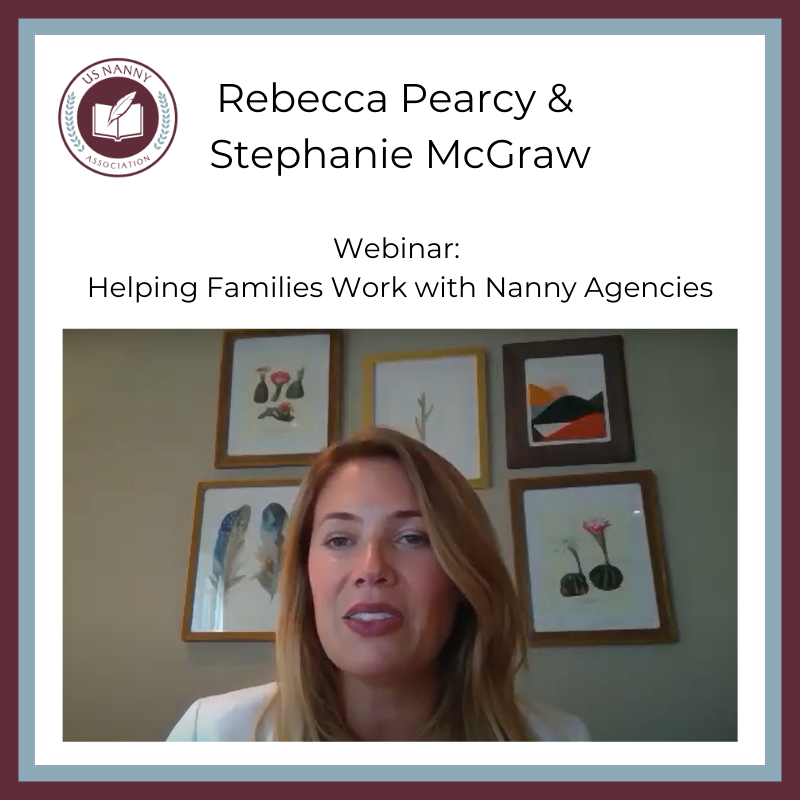 Helping Families Work with Nanny Agencies
Rebecca Pearcy (Windsor House Nannies) and Stephanie McGraw (USNA Director of Ethics) discusses how parents can work with nanny agencies and au pair agencies to find the best childcare for their family.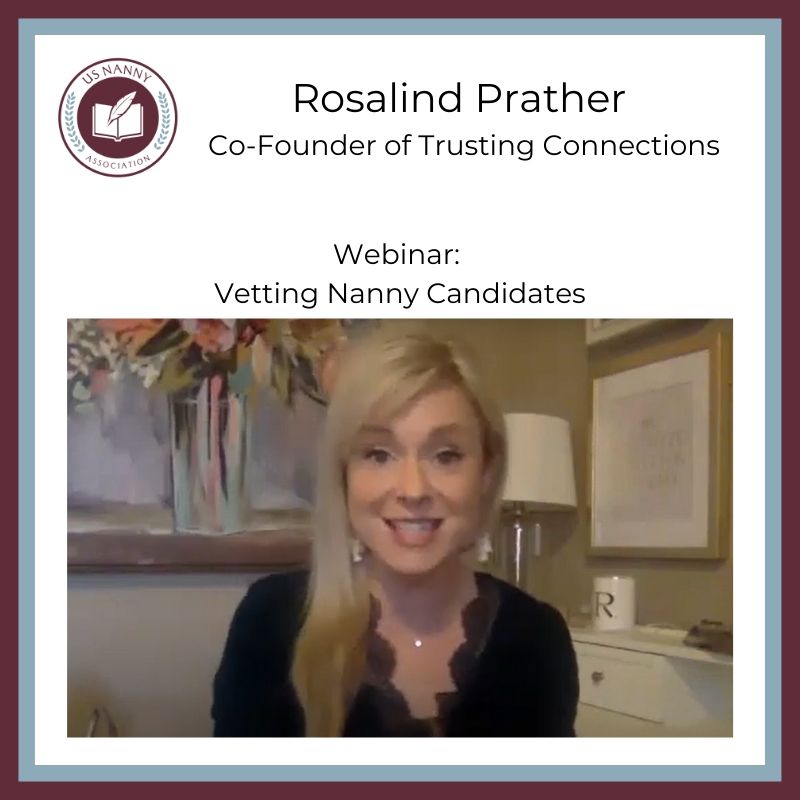 Vetting Nanny Candidates
Rosalind Prather, Co-Founder of Trusting Connections Nanny Agency, and Rebecca Pearcy, Co-Founder of Windsor House Nannies discuss safety tips for families hiring a nanny and for nannies looking for a new position.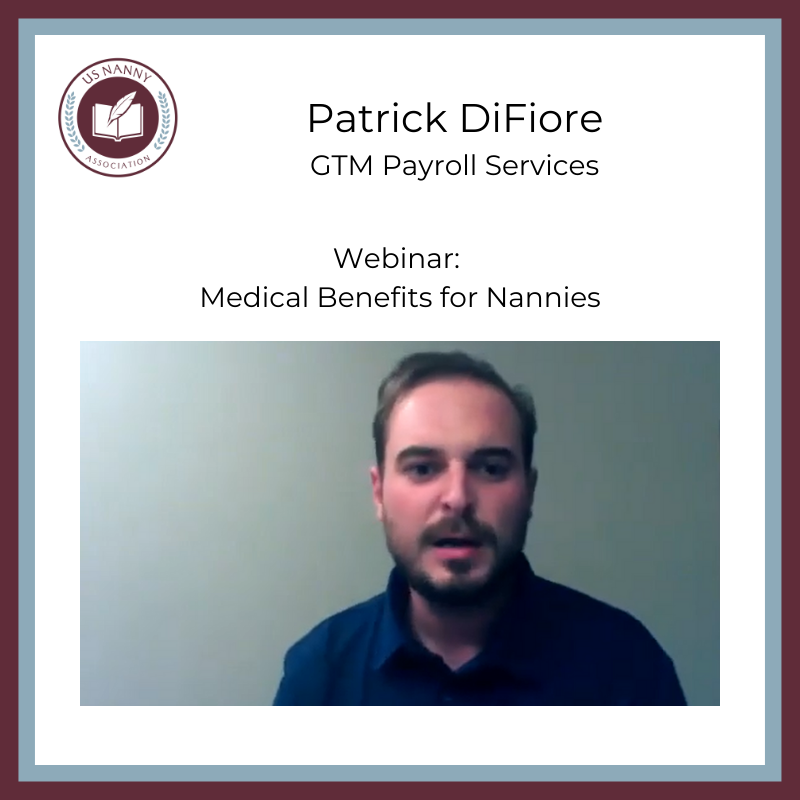 Medical Benefits for Nannies
Patrick DiFiore of GTM Payroll Services discusses the types of medical benefits that families can offer to their nanny and other household employees. Hosted by Rebecca Pearcy.
Modernize Your Nanny Resume
Update and modernize your nanny resume. This guide reviews traditional and visual resumes, providing examples to help you enhance your resume and find the right childcare job.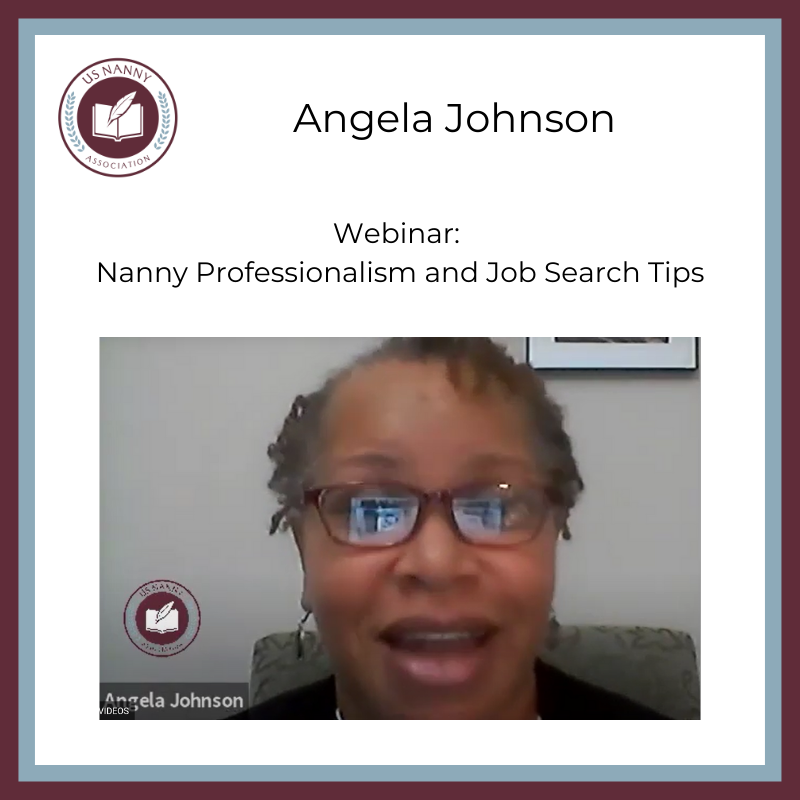 Nanny Professionalism & Job Search Tips
Angela Johnson of Ask the Nanny chats with Glenda Propst of Successful Transitions about professionalism, nanny resumes, and working in childcare.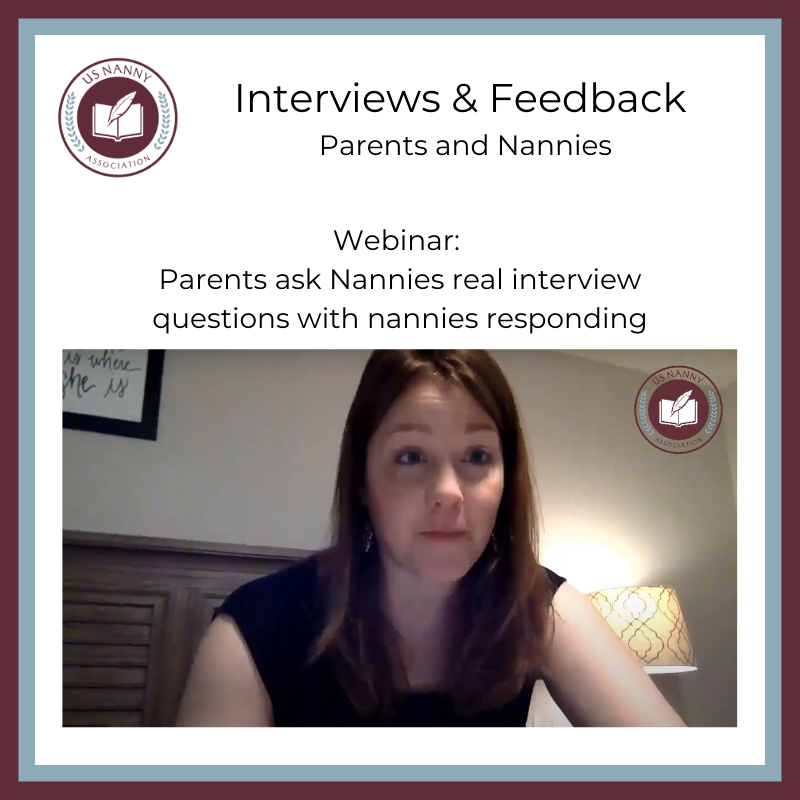 Mock Interviews with Parents and Nannies
Watch as 3 parents (Stephanie, Rachel and Myrna) ask 3 nannies (Martha, Patsy, and Carrie) interview questions and then discuss what was answered well and how nannies can improve.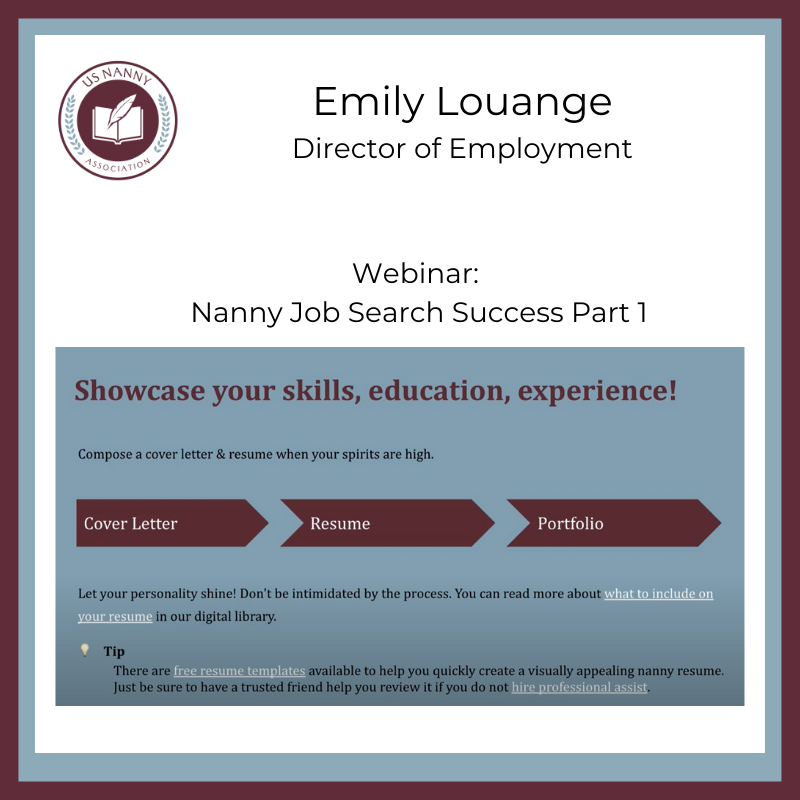 Nanny Job Search Success
Emily Louange of Via The Village shares employment data and tips to help you with your nanny job search.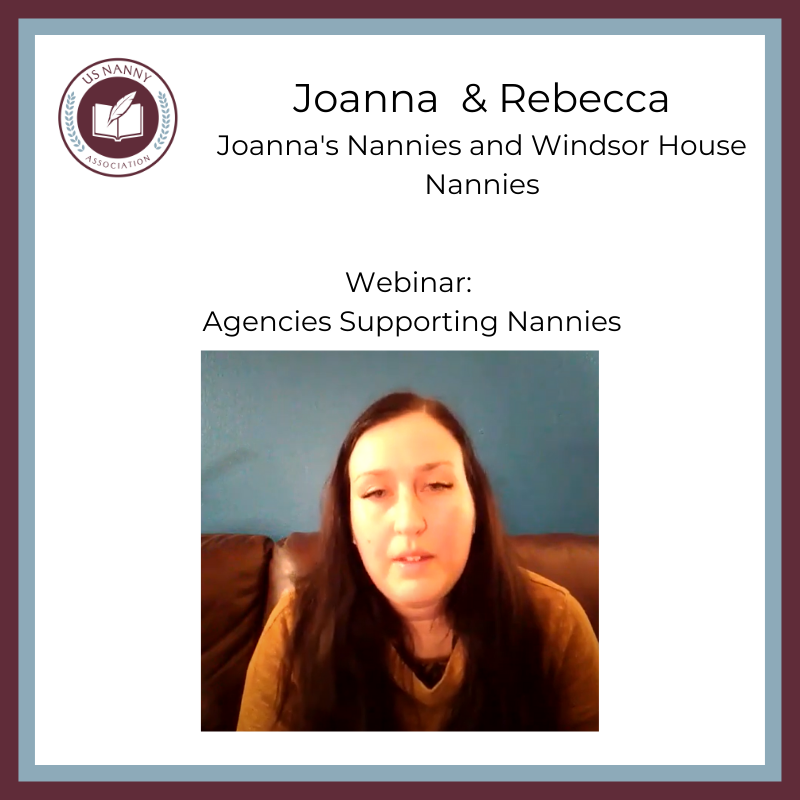 Agencies Supporting Nannies
Rebecca Pearcy of Windsor House Nannies and Joanna Briese of Joanna's Nannies discuss what they do to support the nannies either represented or employed with their agency.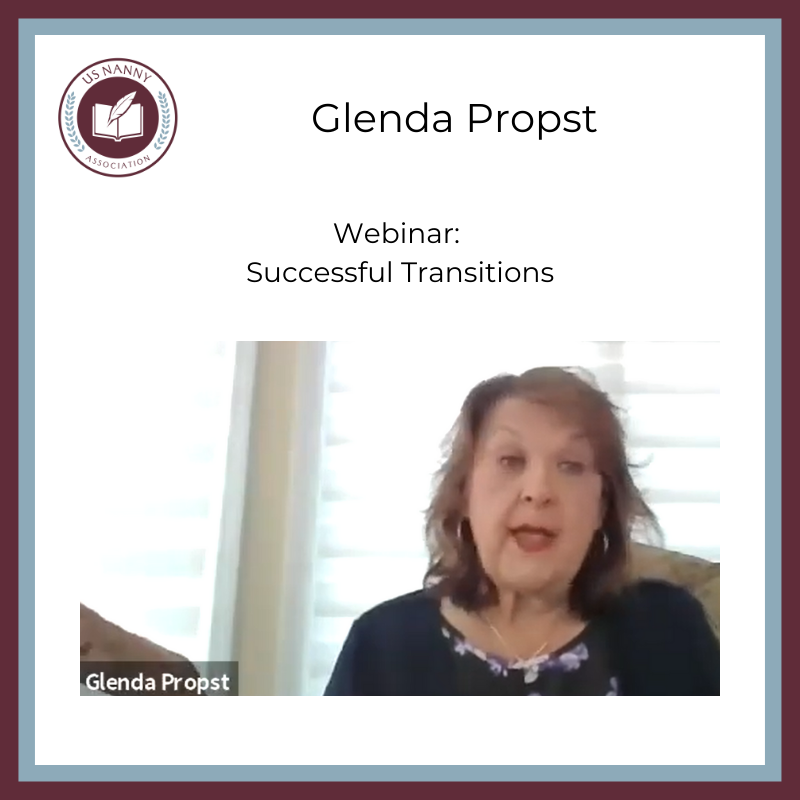 Successful Transitions
Glenda Propst of Nanny Transitions and Rebecca Pearcy discuss how to successfully navigate the end of a nanny and family employment arrangement.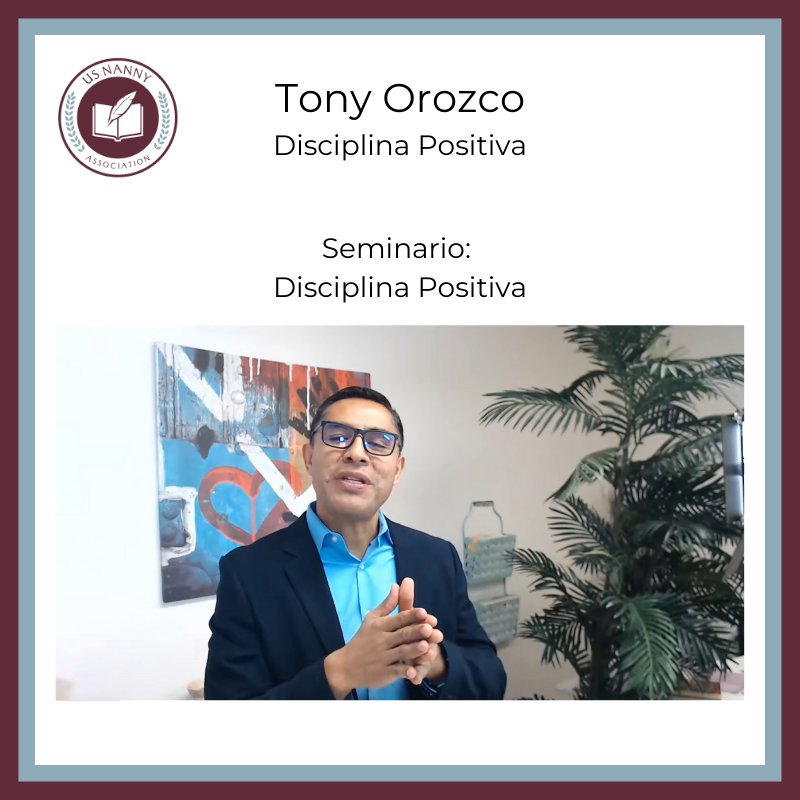 Disciplina Positiva
Este Disciplina Positiva by Tony Orozco.
La importancia de la Inteligencia Emocional.
Coach ejecutiva y Coach de vida Rosamary Rodriguez Piana nos platica sobre que es inteligencia emocional y el impacto que crea en nuestro desarrolllo profesional de Nannny.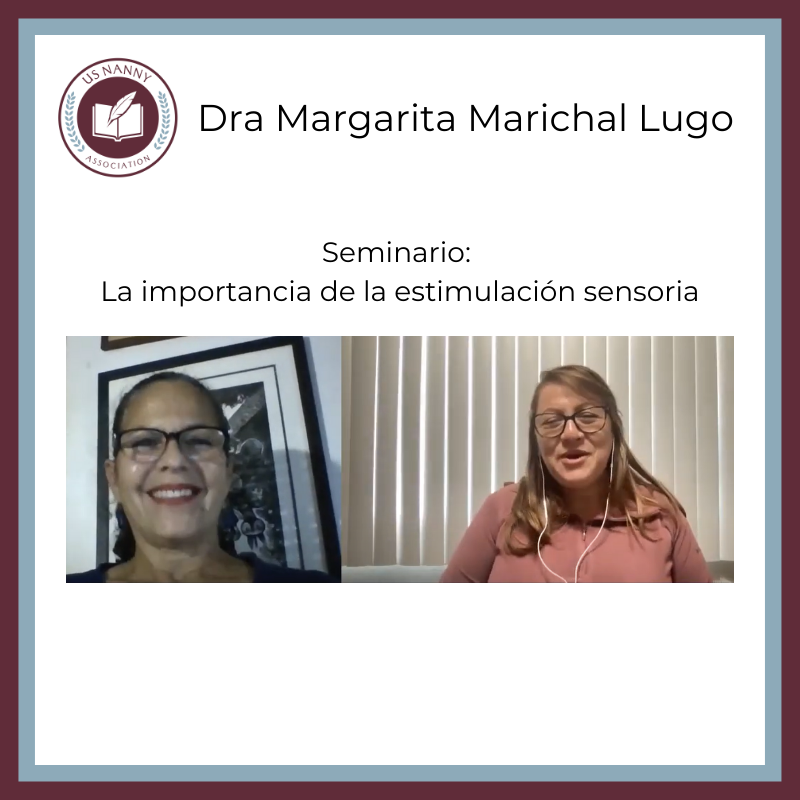 Estimulación sensorial en niños en edad preescolar
La Dra. Margarita Marichal nos platica sobre la importancia de la estimulación sensorial en niños de edad preescolar y nos da herramientas para desarrollar proyectos con los niños/niñas.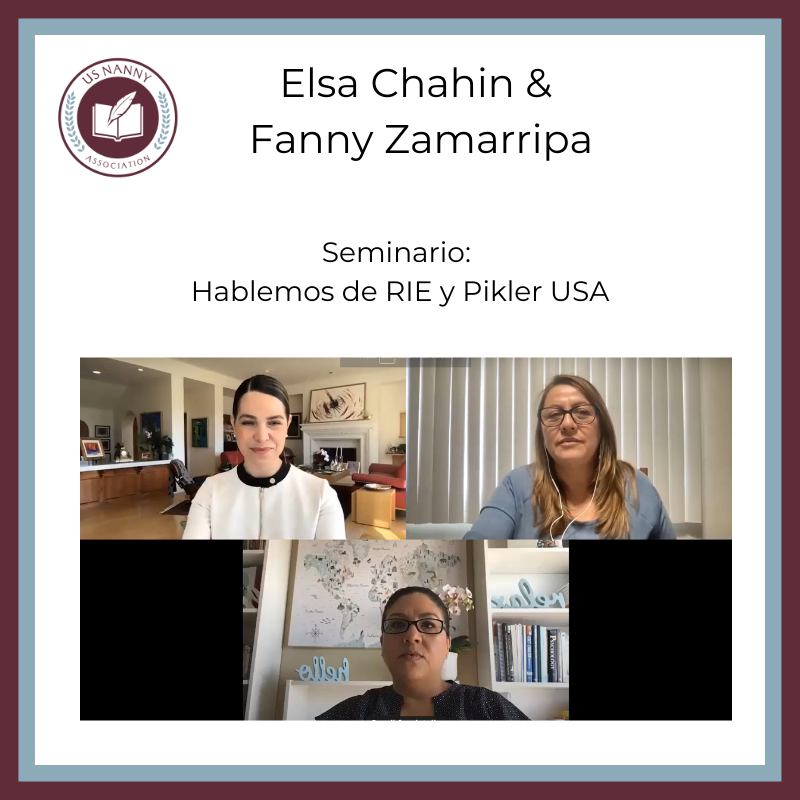 Hablemos de RIE y Pikler USA
Elsa Chain, Presidenta de Pikler/Lóczy USA junto a Fanny Zamarripa fundadora del grupo Respectful Nanny nos platican atravez de una muy emotiva entrevista lo que la pedagogía de RIE y Pikler ha transformado sus vidas personales y profesionales. Nos invitan y motivan a cada una de nosotras a transformarnos también , esto por medio de la educación.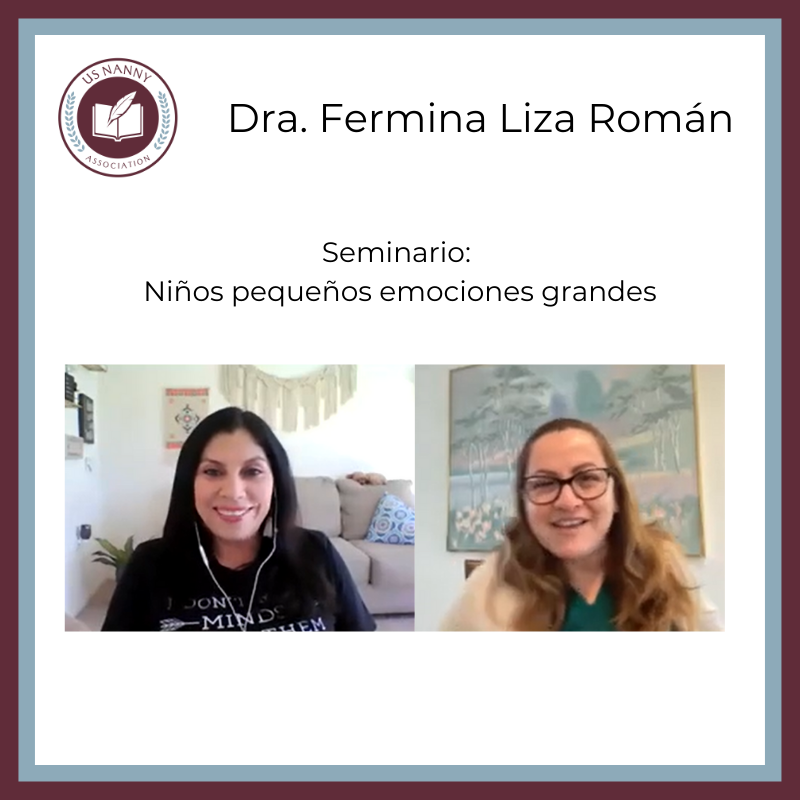 Niños pequeños emociones grandes
Dra. Fermina Liza Román, nos invita a participar en la 2a Conferencia Anual. Niños pequeños emociones grandes es el titulo del tema que ella nos presentara en su webinar.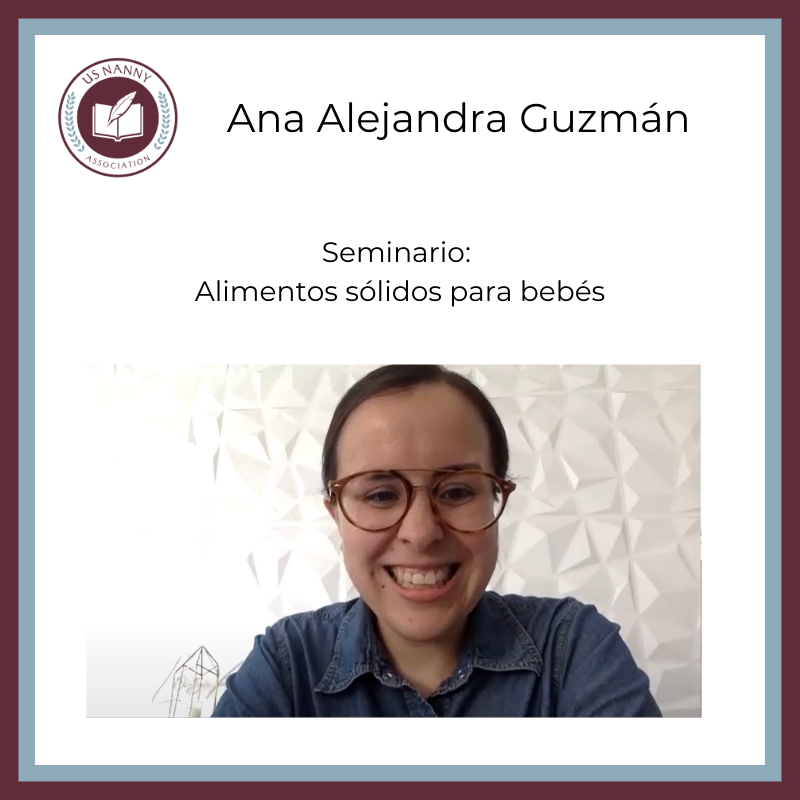 Alimentos Sólidos Para Bebés
Lic. Ana Alejandra Guzmán nos habla de cómo iniciar con alimentos sólidos en los bebés y cuáles son los más recomendados y métodos para hacer esta transición.
Raising Good Kids and Child Development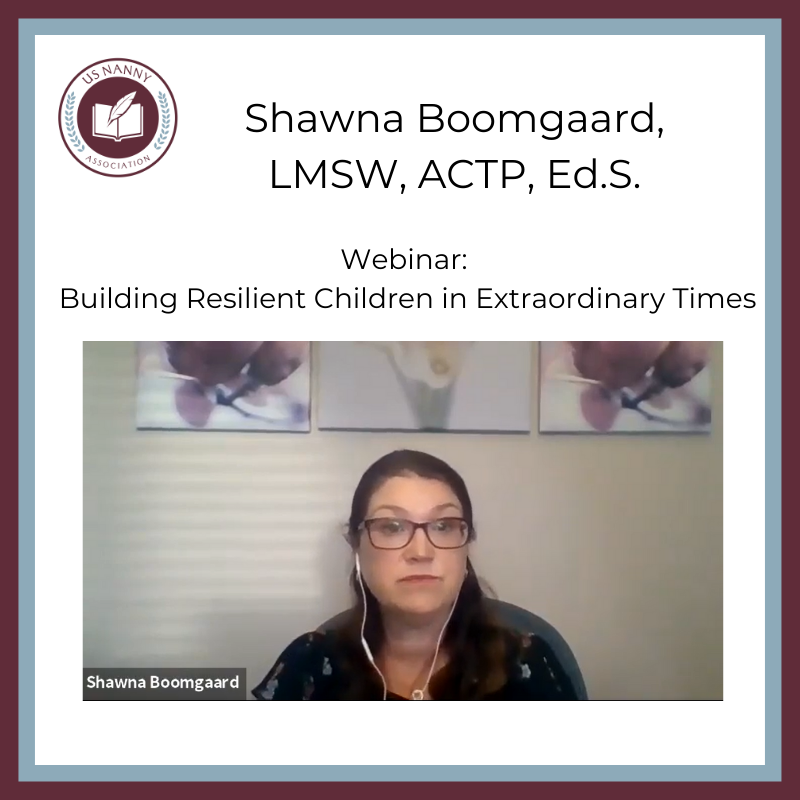 Building Resiliency in Extraordinary Times
Shawna Boomgaard, LMSW, ACTP, Ed.S., and host Rebecca Pearcy discuss the effects that trauma can have on a child and the family and how you can build resilience./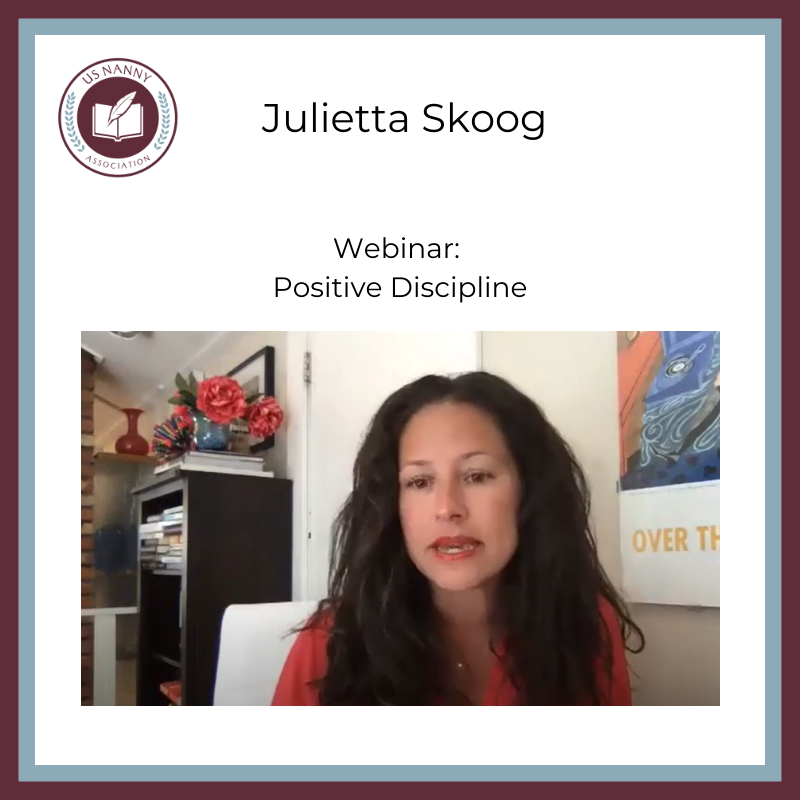 Positive Discipline
Julietta Skoog is a Certified Positive Discipline Trainer with an Ed.S Degree in School Psychology and a Master's Degree in School Counseling. She is sharing tips tonight on routines, positive discipline and how parents and nannies can support kids.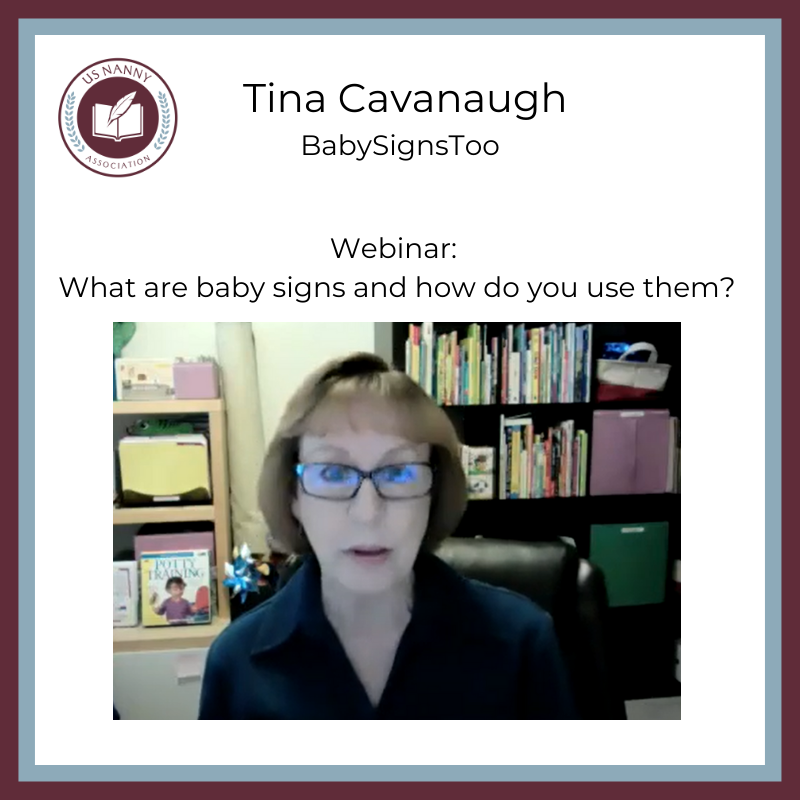 Baby Sign Language
Baby Signs and how to use it with Tina Cavanaugh, a Certified Baby Signs® Instructor and On the Grow™ Educator with host Rebecca Pearcy.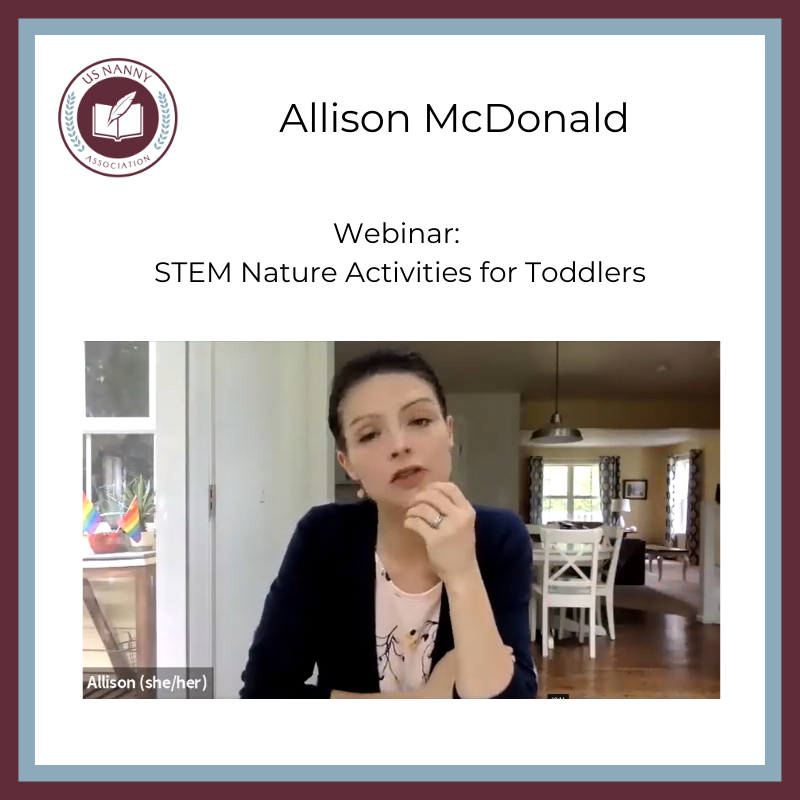 STEM Nature Activities for Toddlers
Allison McDonald, (No Time For Flash Cards) shares her ideas with Rebecca Pearcy, for STEM activities when exploring nature with toddlers.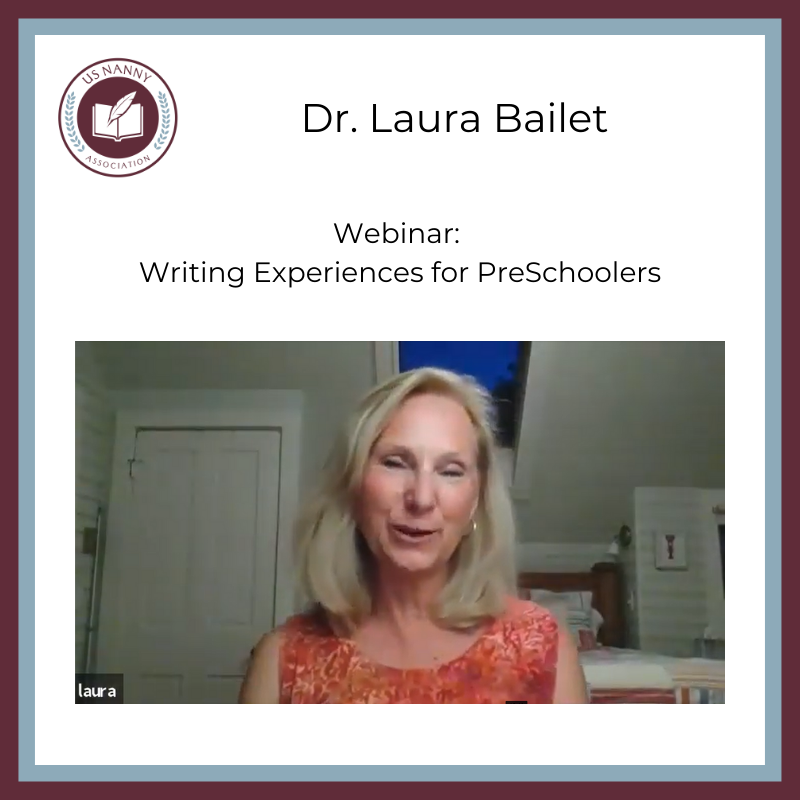 Writing Experiences for PreSchoolers
should we focus on writing during the preschool years? Dr. Laura Bailet shares all!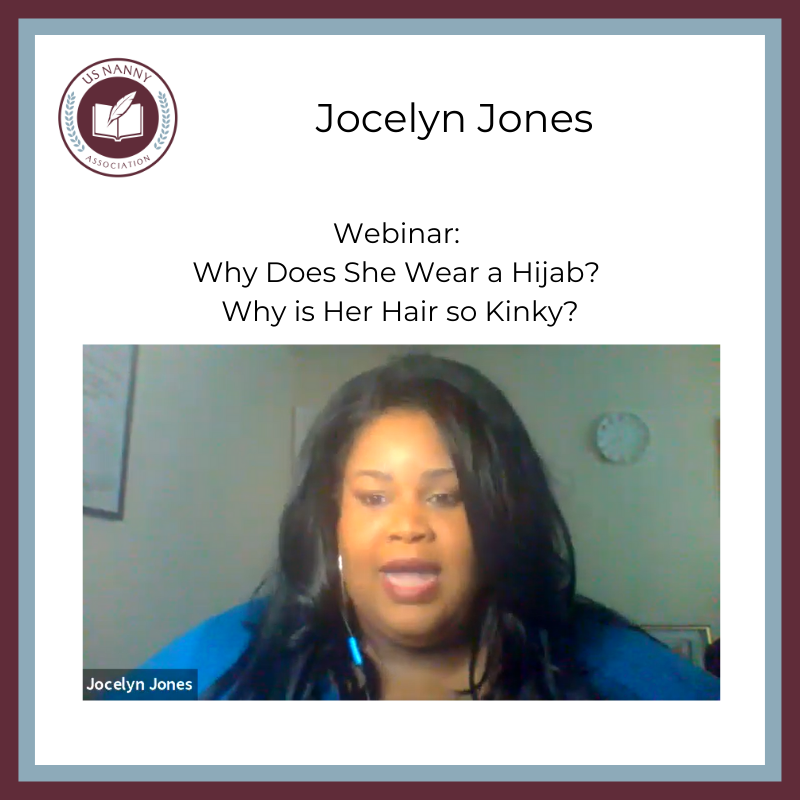 Why Does She Wear a Hijab? Why is Her Hair Kinky?
Jocelyn Jones discusses why cultural relativism and social identity theory is important to use when engaging with parents and children.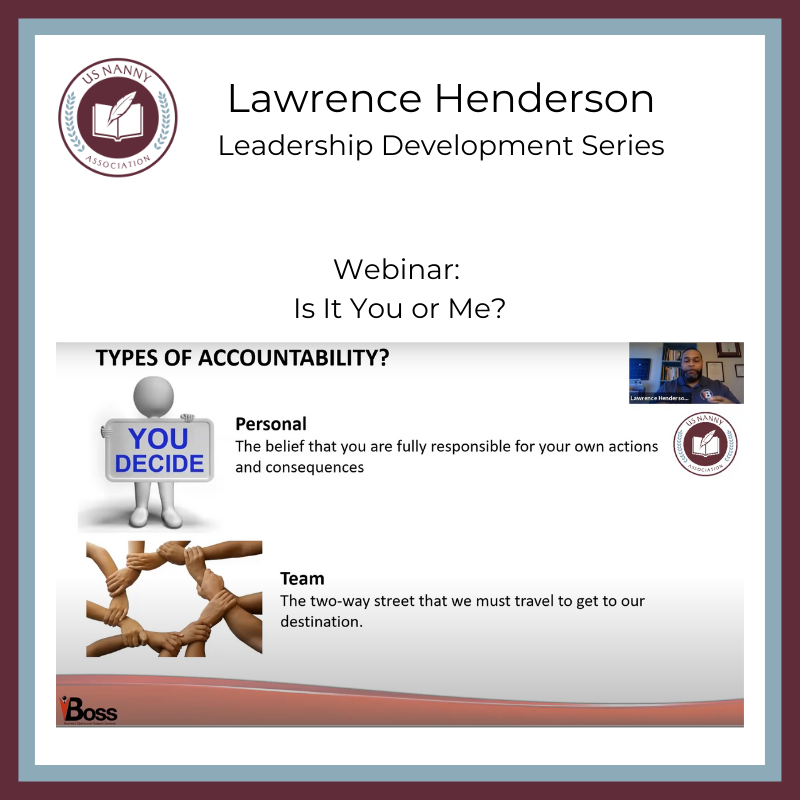 Leadership Development: Is It You or Me?
Lawrence Henderson, Leadership Coach discusses accountability and ownership - two of the most important elements fueling truly successful people.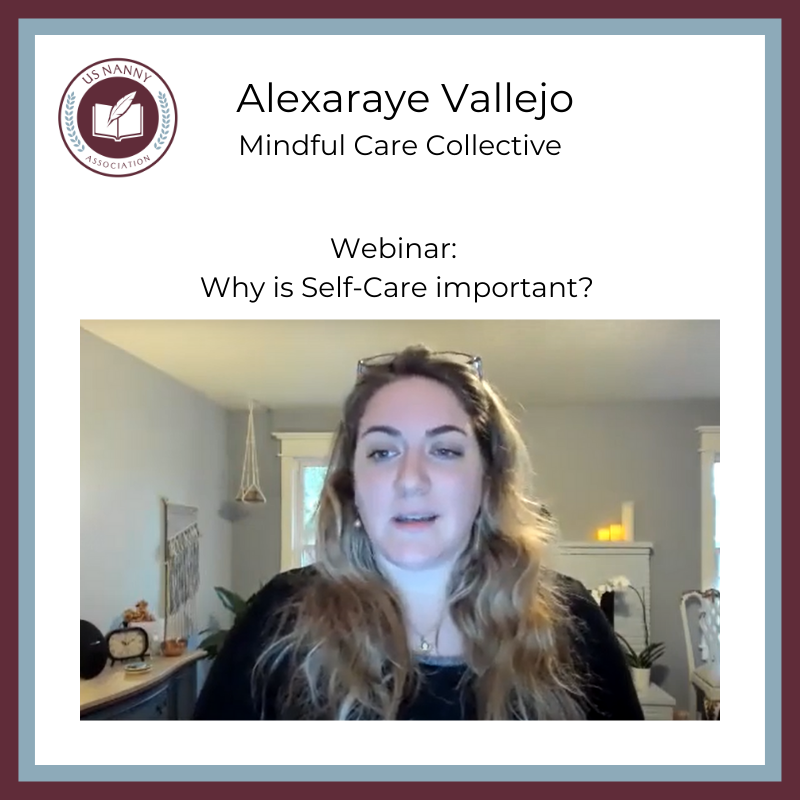 Why is Self Care Important?
Are you stressed, feeling burnt out, and exhausted? Alexaraye Vallejo (Mindful Care Collective) shares her insight on self-care and being mindful.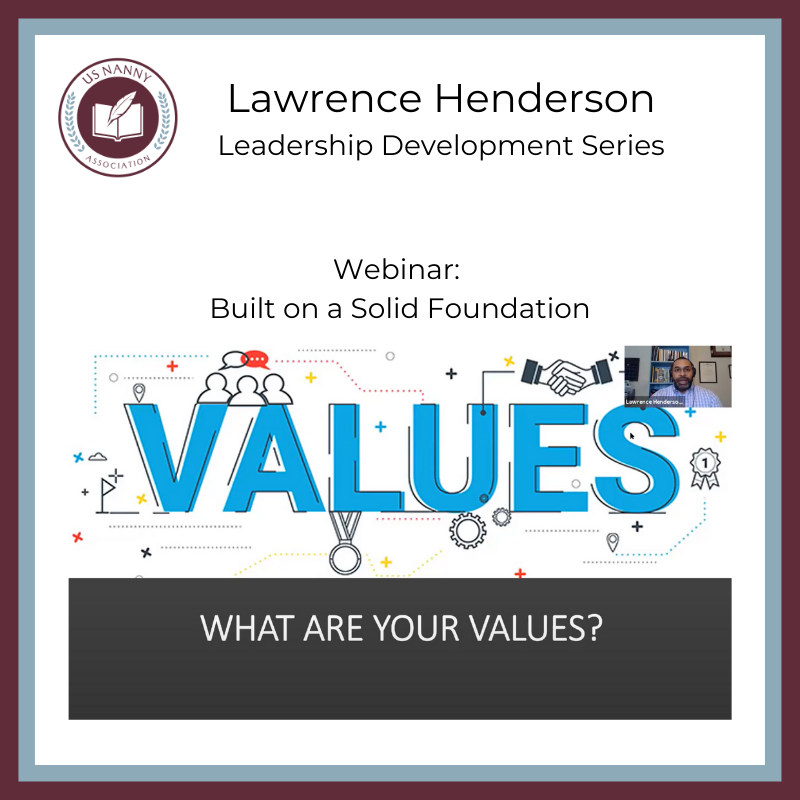 Built on a Solid Foundation
Lawrence Henderson, Leadership Coach shares, "Built on a Solid Foundation". The saying goes if you don't stand for something you will fall for anything. That's why I believe understanding what your set of Core Values are will help you navigate not only life, but relationships, and provide purpose to everything you do.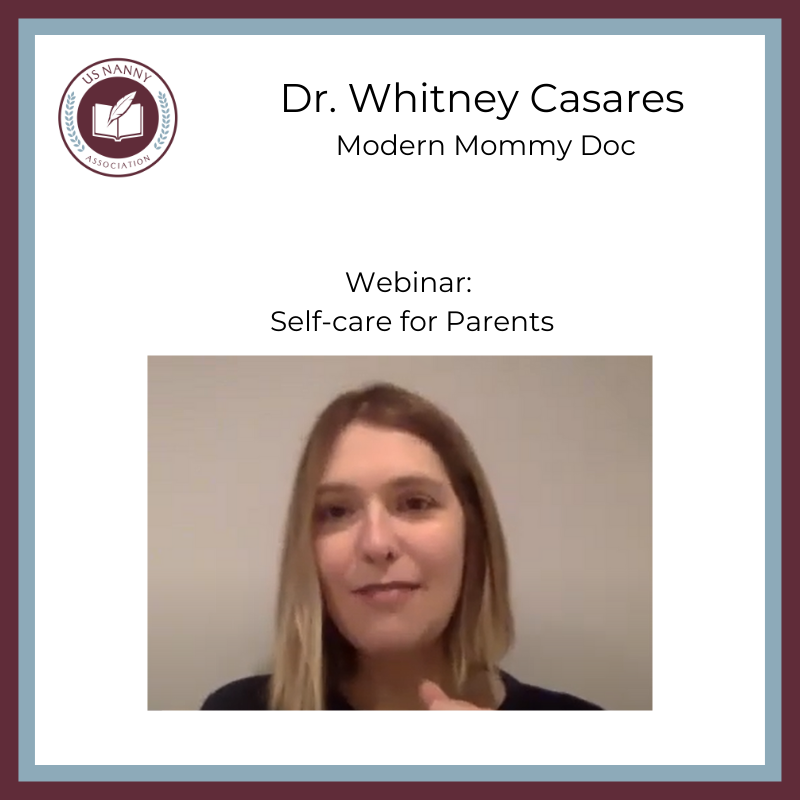 Self Care for Parents
Whitney Casares, M.D., M.P.H., F.A.A.P., published author and creator of Modern Mommy Doc, discusses with Rebecca Pearcy why it is important and how parents can practice self-care.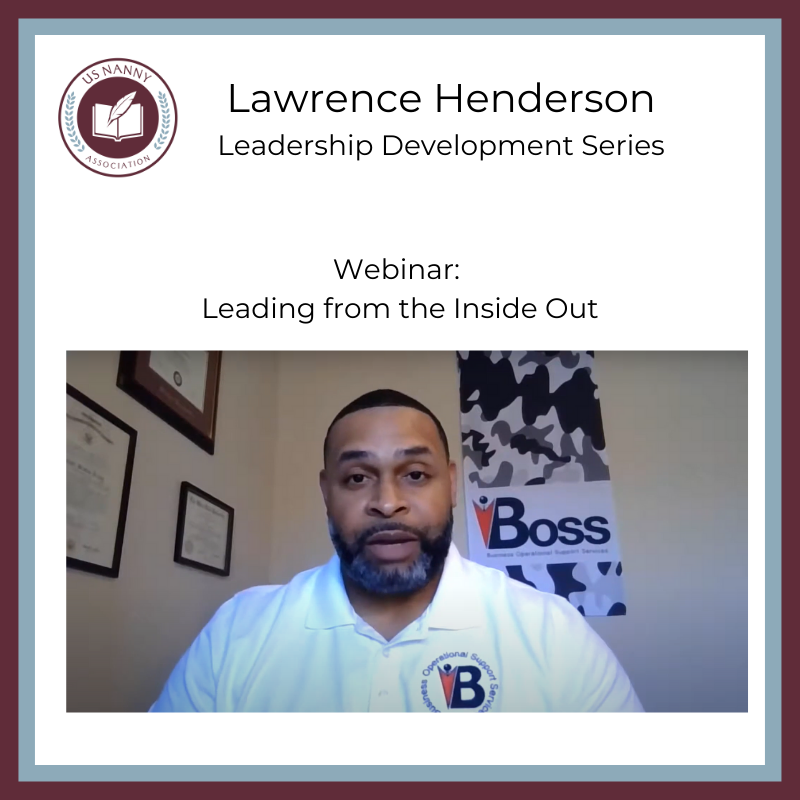 Leading from the Inside Out
Lawrence Henderson, Leadership Coach. Leading from the Inside Out shares how to harness your power and gain the footing you need to be successful! Lawrence is a leadership coach who teaches self-awareness, professional development and leadership.