Opportunity wastes no time with those who are unprepared advises George S. Clason. Are you prepared for your opportunities? The US Nanny Association wants to see YOU succeed in securing the most desirable employment arrangements possible. Let's examine ways in which you can prepare to cultivate outstanding job offers!
1. Compose a cover letter and resume when your spirits are high.
You do important work. Showcase it! Use a cover letter, resume, and/or portfolio to express your personality, work experience, and professionalism.
Rather than wait until you have to do it, work on it when you are in a creative and positive mood. You will be much more likely to write compelling copy to promote yourself in this state of mind compared to when you are desperately searching for work. Don't be intimidated by the process. You can read more about what to include on your resume in the US Nanny Association digital library.
Tip – There are free resume templates available to help you quickly create a visually appealing nanny resume. Just be sure to have a trusted friend help you review it if you do not hire professional assist.
2. Keep your certifications up to date.
If you've let your CPR or First Aid cards expire, now's the time to find a class to renew them. What if your "unicorn family" came along tomorrow but you missed out on the opportunity simply because they require these basic certifications?!
If you are currently employed, ask your employer to reimburse you for your renewal fees. Keeping current on CPR and First Aid is a matter of safety and should be prioritized.
Tip – Search American Red Cross or, American Heart Association to find local classes. Although online certification is offered, it is highly recommended for you to go to a physical location to obtain certification or recertification. Live instructors can evaluate the effectiveness of your CPR. Proper technique is essential to performing successful CPR. You must practice the skill and develop your muscle memory. It could be a matter of life or death.
If you possess other certifications or degrees, house all this related paperwork together to share readily upon request.
3. Give yourself plenty of time to search.
Securing desirable employment takes time. Randstad conducted a survey of 2,000 Americans and found that it takes job seekers 5 months to land employment!
We surveyed nannies specifically, results from 200+ nannies revealed: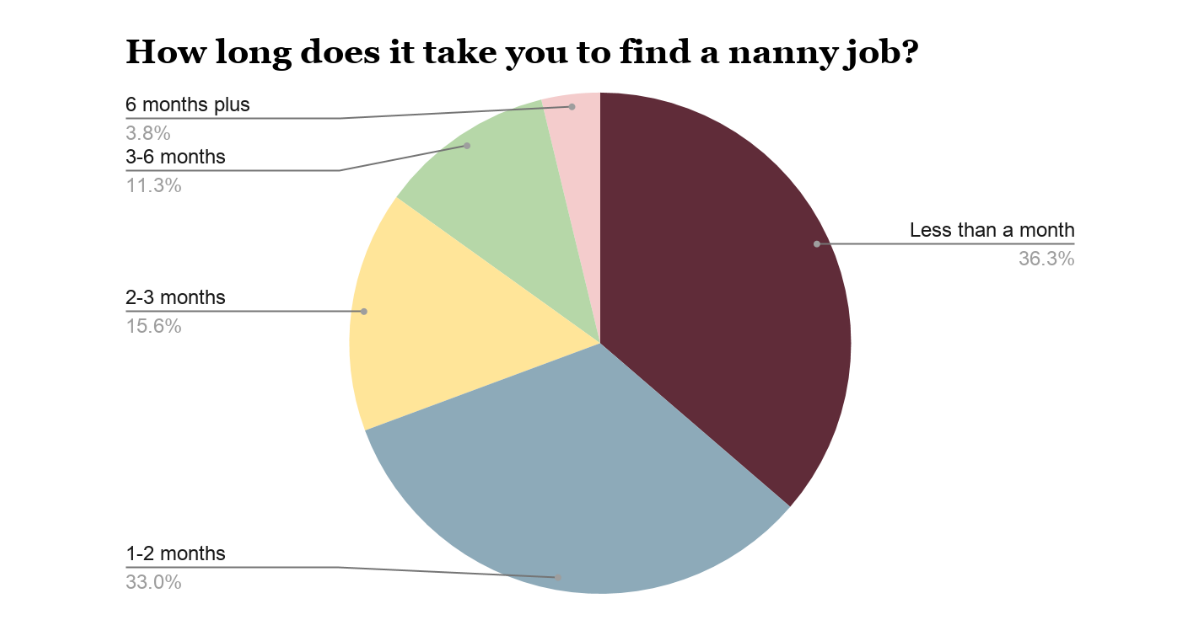 These results are interesting in comparison to the national average. On one hand, it could be viewed as a positive- nannies seem to find employment faster than the average American job seeker. On the other hand, there is a concern that nannies may be searching frantically and taking the first gig they can get. The optimal situation is for you to take your time with your search in order to find the right fit and negotiate your desired salary/benefits.
Tip – when your next contract is drawn up, be sure to negotiate 30-45 days written notice as a minimum should your employer need to let you go. This will enable you to get a jump start on your job search so you can avoid accepting a job offer out of desperation.
4. Initiate search.
You are now prepared to start your search. There are a myriad of mediums to find families. We asked 200+ nannies where they found employment. Here is what was discovered: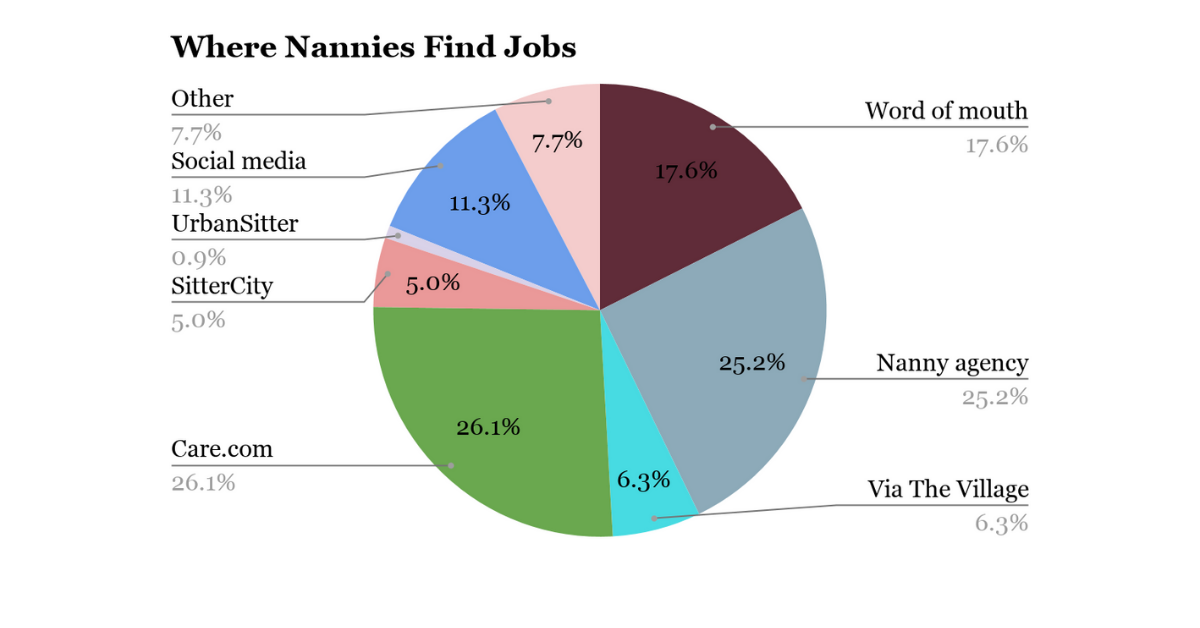 Tip – Don't put all your eggs in one basket. Use a couple of different search methods to find your ideal fit.
5. Messaging matters.
We collaborated with Via The Village to examine the strategy used by nannies who received the most messages on their platform. Compared to nannies that received fewer messages, these nannies reported that they:
– Personalize each message addressing the potential employer by name
– On average respond to messages in less than 24 hours
When we asked 200+ nannies how many messages they had to send during an online job search before securing an interview: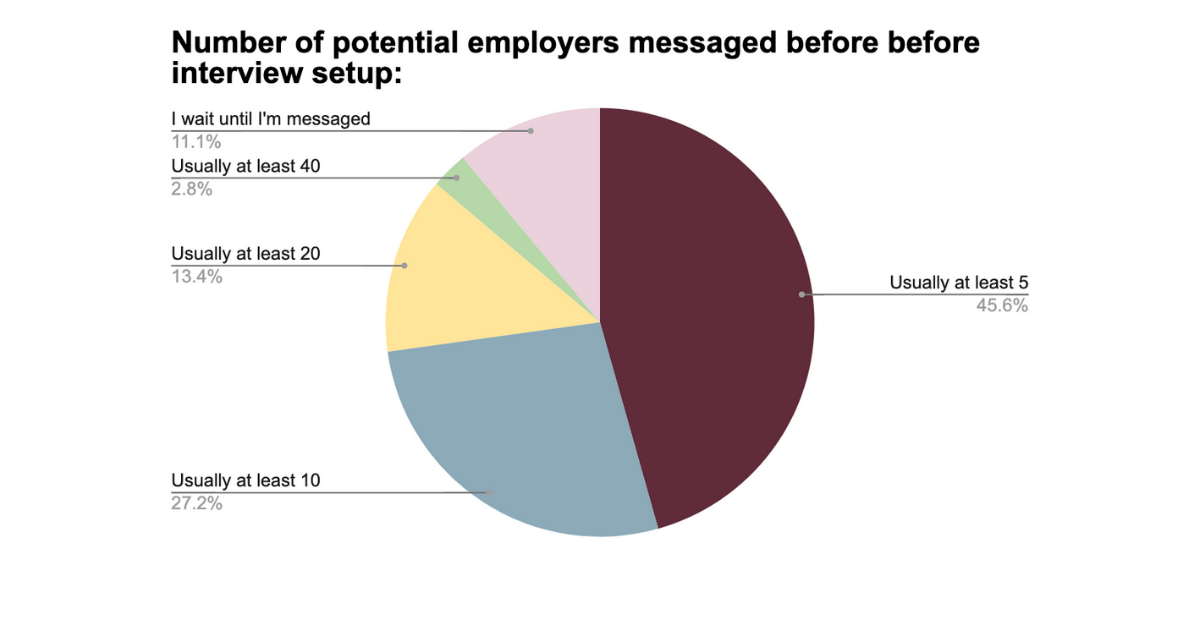 Tip – In addition to personalizing each message by addressing the recipient by name, you can go above and beyond by describing why you feel you are the best candidate for the job. Here are two examples, "I see you have a daughter with food allergies and I have previous experience with the struggles you face." "I see your child needs help with tutoring, I've helped several families with tutoring both reading and math."
6. Other solid strategies per successful nannies.
We asked the nannies on Via The Village who received the most messages what they feel makes them capture attention from potential employers. Compared to nannies who received less message, they replied:
– "I complete my profile with detail & include a picture before messaging."
– "Parents seem impressed by my experience."
– "Parents seem impressed by my education or training."
– "Parents seem impressed by professionalism (timely response to messages, my wording, resume, etc.)"
Tip – If you lack experience, you can make up with it with education and training! See US Nanny Association's Training and Education Partners to get started. Congratulations on laying the groundwork for your success. Be sure to stay tuned for Nanny Job Search Success Part 2: Interviewing.
The US Nanny Association thanks all the nannies, advocates and business leaders who provide practical tips and insight to elevate our industry. Thank you for sharing your expertise.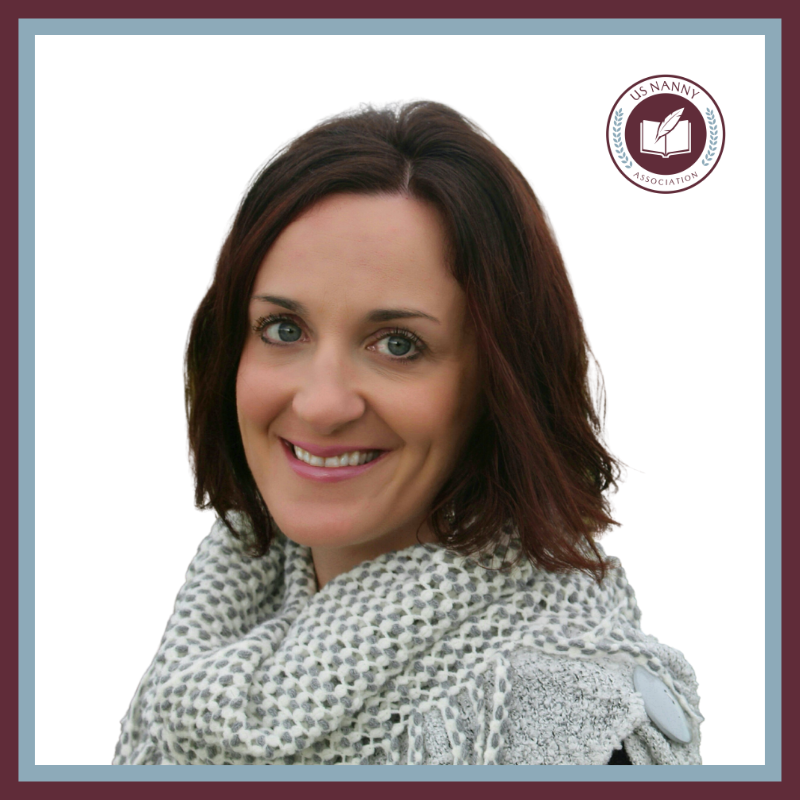 Emily Louange. Emily offers unique insights as a former nanny and a working mother who has relied on nanny care for her two young children. She is passionate about leading innovation for nannies and families. Emily is the Founder of Via The Village, a nanny-specific childcare networking platform that helps families find trusted, quality childcare with ways to make it more affordable while empowering the nanny profession. Emily has earned a Bachelor of Science in Nursing with a minor in Psychology from Western Michigan University.